College Nine 
Calendar
See the full College Nine Calendar here.
Alternative 
Spring Break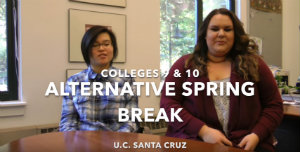 Learn more about this year's ASB in Watsonville! Watch»
College 
Updates
Interested in Alternative Spring Break 2016 in Watsonville? You must attend an interest meeting to apply!
7-8pm Monday, January 11 in SS1 261
6-7pm Tuesday, January 12 in SS1 261
-----
The Cocurricular Programs Office and the American Indian Resource Center are excited to host a series on Cultural Appropriation in January! Get the details here!
Cultural Appropriation or Cultural Appreciation?: Exploring the Fine Line
7-8:45pm Wednesday, January 20 in Multipurpose Room
Further the Conversation: Puttin gthe Fine Line into Action
7-8:30pm Wednesday, January 27 in Namaste Lounge
Leadership and 
Employment
Are you an active and engaged student leader? The search and hiring processes will soon be underway for exciting leadership and employment opportunities in the 2016-17 academic year.  
For more information about the upcoming process, please visit our student leadership and employment pages.
To be recognized for your continued leadership at College Nine and the work you do to promote the college theme, please click here for information about the Leadership Certificate.